Storz Spies Tc 200/300 With Th100 Camera Head And 26" Led Storz Monitor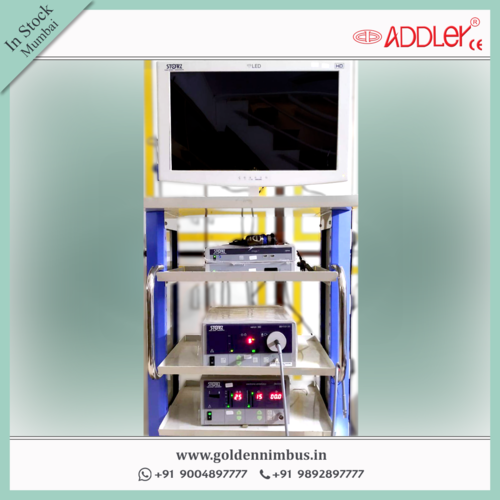 Storz Spies Tc 200/300 With Th100 Camera Head And 26" Led Storz Monitor
Price And Quantity
Piece/Pieces

6.00 - 15.00 INR
Product Specifications
5 Kilograms (kg)

Hospital and Clinics
White

Medical Healthcare,Sugery,Operative
Laparoscopy, ENT, Gyanecology, Nuero, Endo
Product Description
Storz Spies Tc 200/300 With Th100 Camera Head And 26" Led Storz Monitor
Karl Storz Endoscopy-America Inc. has announced that its Image 1 Spies Visualization Enhancement Tools system was recognized as a 2014 Innovation of the Year by the Society of Laparoendoscopic Surgeons (SLS).
Features :
The new Image 1 Spies system represents the companys latest solution for giving surgeons superior views of challenging anatomical areas during complex surgeries, ranging from skull base and orthopedic to gynecologic, urologic and thoracic.
Combined with new full-HD three-chip camera heads, Image 1 Spies includes the Clara and Chroma apps that activate proprietary image enhancement algorithms. Spies Clara automatically identifies and brightens dark areas of an image without lag time. This addresses common problems encountered when some anatomical areas are illuminated better than others, requiring overall brightness to be increased or the scope to be moved closer to visualize darker areas. Increasing the brightness level, however, prompts tissue in the foreground to reflect light and cause glare. Moving the scope closer narrows the visible area, making it difficult to manipulate instruments and can result in mucus or blood obscuring the lens. Now, by using Spies Clara, dark areas are adjusted in real time. This avoids overexposure and reflections, providing a clear view of bright and dark regions.
Additionally, surgical interventions can be made more efficient if clear differentiation of key tissue areas is possible. Spies Chroma helps accomplish this by intensifying color contrast levels, enabling surgeons to more easily discern blood vessels and other critical anatomy. Clearly visible structure surfaces are emphasized while retaining the natural color perception of the image.
We deal in various imported:
Styker,KarlStorz,Addler,Arthrex,Olympus,Fujinon,Pentax,Dyonics,Smith & Nephew and many others.We also manufacture all Laparoscopic instruments,with best quality and standard.
Why choose Addler CE:
-We have over 100+ Installations PAN INDIA We are direct Importers.
-We are direct Importers
-Service back up - 24hrs Policy.
-Competitive Prices.
-Stand by set within 48hrs.
-In House Repair Facility for Camera Consoles/ Camera heads/ Scopes/ Monitors etc.
-Over 20 years of industry experience.
Ask for an installation reference near you and enquiry more about our Service Policy

Our branch offices at : Mumbai,New Delhi and Hyderabad.
!!!Connect with our team TODAY!!!